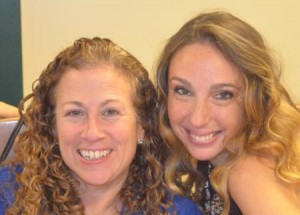 To Whom It May Concern:
For the past five years, I've had the pleasure of working with Allyson Weiner, who is the choreographer for the Trumbull Hall Troupe – a teen theater troupe I founded which performs original musicals to raise money for local charities. I first met Ally through our music director, Ellen Wilber – who told me flat out that Ally was the most creative choreographer she'd ever worked with. Given Ellen's 30+ years in community theater, I immediately asked Ally to join my troupe.
The Trumbull Hall Troupe is not your average theater troupe. The kids with whom we work run the gamut from highly experienced to having never set foot on a stage. Not only was Ally able to connect with each kid individually, she also managed to elevate each child to new levels of dance through commitment, inspiration, and creativity. I sometimes joke that if Ally told a kid to leap off a building as part of a number, he would give it his all. And yet, Ally's first concern is safety. I have watched her sideline a dancer or change her choreography if she feels that the move is too difficult or might result in injury. In all the years I've worked with kids, I have never seen another choreographer who imbues dancers with the confidence to safely reach beyond their abilities, who gives them the tools they need to improve, and whose ultimate goal is to make them shine onstage in a way that will wow an audience. It is not any mystery why THT cast members look forward to dance rehearsal days: they know they will be challenged, taught, praised, and inspired. Having worked with other choreographers before both at Trumbull Hall Troupe and as a former teen advisor for NCCT, I can say that Ally's choreography is the most unique, energetic, and creative dance that has been seen in the Upper Valley in recent years. It is no surprise to me that she has received a NH Theater Award for her talents.
Ally is a director's dream, as well. In the tight-knit knot of a production corps, Ally is very much a team player who listens to the vision of the director and then will facilitate it through movement and dance. When I was the director for THT, I hardly even had to explain what I hoped to see on stage for a given song before Ally would choreograph it and knock it out of the park. On the rare occasions when my vision did not match well with her choreography, she very professionally returned to the drawing board and revised a dance to suit my needs better. She is equally fluent in teaching solos and large group numbers – even with dancers who have not had a great deal of experience. But like the best of choreographers, she plays to their strengths, so that they look great onstage and feel accomplished after their performances.
There are some choreographers who do the job to pad their own resumés, or to win adulation for their art. Ally isn't one of those. Her position at THT is completely volunteer, and I can attest to the fact that she puts in more time outside of rehearsals than any other member of the production staff, often meeting late into the night with a young actor who wants a little more practice and private instruction in order to excel. Ally choreographs because it's in her blood, an art passed down from her mother, who – like Ally – taught at a private studio and was a fixture in community theater. She choreographs because she is moved by the way dance makes actors blossom onstage – sometimes to their own surprise. She choreographs because she wants her students to love dance as much as she does.
There have been many wise decisions along the way that have made the Trumbull Hall Troupe grow from its origins as a troupe with ten actors performing in a church hall to one with a cast of 40 performing at the Lebanon Opera House – but one of the smartest moves I ever made was asking Ally to become our choreographer. She elevated the level of our performances in a way I cannot even articulate. People come to our shows because they know the dance numbers will be extraordinary. Kids ask to join the cast because they've heard of the great experience actors have working with Ally. She is an invaluable addition to any theater troupe lucky – and smart – enough to hire her.
Best,
Jodi Picoult
Founder/Producer, Trumbull Hall Troupe
NYT Bestselling novelist